Last Updated on September 30, 2019 by Your Malta
Malta museums are a reflection of the island nations rich history and heritage. The museums provide a peek at well-preserved relics of Malta's layered history and cultural assets. Here are our top recommendations.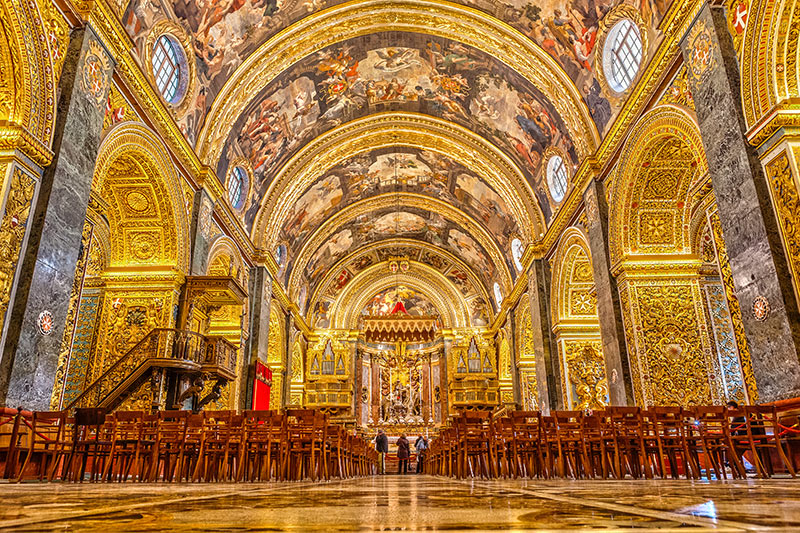 Whether you are just after a leisurely museum visit or you have a deep interest in magnificent architecture and art treasure, the museums have something for everyone. Here are some great Malta museums that are well worth a visit.
Malta Museums – our favorites!
St John's Co-Cathedral Museum, Valletta
This museum is a top attraction in Malta. It features a large collection of Flemish tapestries and choral books from the island's early history.
The cathedral itself features remarkable Baroque architecture and ornate designs but its major highlight is Caravaggio's only signed painting, which forms part of the museum.
Palazzo Falson Historic House Museum, Mdina
Palazzo Falson is the best preserved medieval building in Mdina. It was once home to Captain Gollcher (1889-1962), a keen collector, artist, and cultural enthusiast.
The museum houses a collection of 17th-century paintings, antiques, and historic domestic artefacts. A 10-hour timepiece from the French Revolution era is one of the rarest items in the museum.
The National Museum of Archaeology, Valletta
Another fine example of elaborate Baroque architecture, the National Museum of Archaeology was built in 1571. The museum is home to many renowned artefacts that date back to the Neolithic period (5000 BC) and it offers an excellent glimpse of life in prehistoric Malta.
Among the museum's top artefacts are the 'Sleeping Lady', the Horus and Anubis pendant, the Venus of Malta, and a sarcophagus from the Phoenician period.
National War Museum and Fort St. Elmo, Valletta
If you are a war history buff, this museum is a must-visit. The museum is inside Fort St. Elmo's barracks, which were built long before Valletta even came into existence.
On display are many artefacts and objects from the many battles Malta saw throughout the centuries. Highlights include Roosevelt's Jeep 'Husky' from 1943, the George Cross awarded to the people of Malta, and Gloster Sea Gladiator N5520 FAITH aircraft which survived the Siege of Malta.
Għar Dalam Caves and Museum, Birzebbuga
The Ghar Dalam caves and museum take you back to a time even before the Megalithic Temples of Malta. The caves stretch out over 145 metres although the public can only access 50 metres.
You will find archaeological finds of early human and animal life. Some of the exhibitions are of animals that are now extinct, including dwarf elephants.
Esplora Interactive Science Centre, Kalkara
The Esplora is a must-visit for some family exploring and entertainment. This modern educational museum has lots of interactive science displays that allow children of all ages and even adults to enjoy some fun learning.
The museum assistants are always ready to help ensure that your visit is comfortable.
Handy tips for visiting Malta museums
For the best Malta museums experience that is economical, consider getting a Malta pass which provides access to some of the top museums at a lower cost.
In addition, Valletta has the highest number of museums so it is your go-to place if you have limited time to go around.