Last Updated on June 26, 2019 by zedonk
Malta attractions are proof that a tiny place can still be packed with many treasures. The small country has an unrivalled heritage and it is home to lovely beaches, old fishing villages, and ancient sites.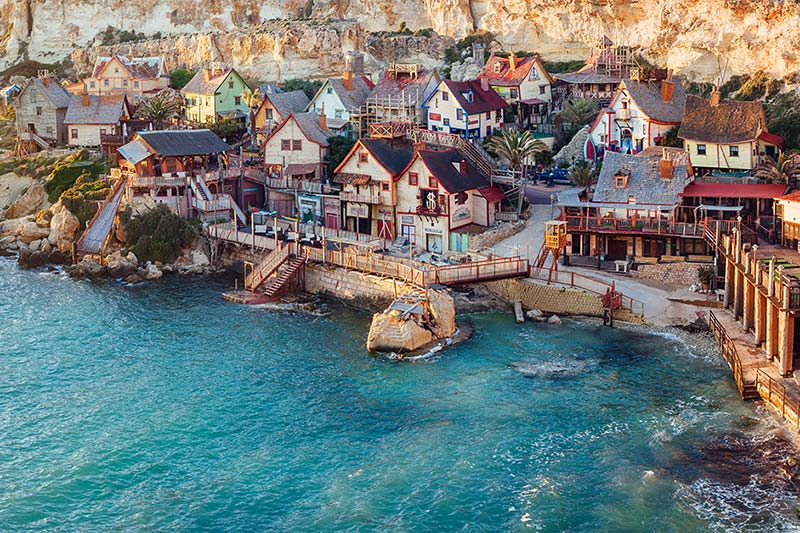 Malta has a lot to offer, whether you are looking to relax by the sea or you want to get a sense of the island's rich history. Here are some top Malta attractions that you must see.
Malta attractions – our favourites
Mnajdra and Hagar Qim
Dating back to about 3600 BC, the prehistoric temples of Mnajdra and Hagar Qim are perched on top of a cliff with spectacular views of the sea.
The temples were rediscovered in 1839 and they are only 700 metres from each other. The megalithic structures offer a glimpse of early human life and unusual prehistoric design styles.
St John's Co-Cathedral and Museum
Situated in Malta's quaint capital of Valletta, St John's Co-Cathedral and museum are must-see attractions. The cathedral is well-known for its Baroque architecture and ornate decorations.
Perhaps its most recognisable attraction is Caravaggio's the Beheading of Saint John the Baptist. The adjoining museum has a rich interior and it houses invaluable artwork and relics including 29 priceless Flemish tapestries.
Marsaxlokk
A short bus ride from Valletta lands you in the scenic fishing village of Marsaxlokk. The village is famous for its tranquil surroundings.
Make sure to stroll through the village and take in the colourful marketplace and bright luzzu fishing boats before enjoying a hearty meal at one of the quayside fish restaurants.
Blue Lagoon Bay
For a restful experience away from much bustle, visit the Blue Lagoon. The bay lies on Comino, a tiny island that is hardly inhabited. In fact, no cars are allowed on the island and there is only one hotel.
Blue Lagoon bay is a mesmerizing scene of white sand and sparkling turquoise waters. You can sunbathe, enjoy several outdoor activities, or simply take in the beautiful views.
Hal Saflieni Hypogeum
Hal Saflieni Hypogeum is the only prehistoric underground temple in the world. Discovered in 1902, this Neolithic temple in the city of Paola was carved out of rock and it houses ancient artefacts from the prehistoric era.
You will need to plan your visit ahead of time because entry is limited and you may have to wait up to three weeks to secure a ticket.
Mellieħa Bay
Also known as Għadira bay, Mellieħa Bay is Malta's longest and possibly most popular beach. The beach is perfect for enjoying the Maltese weather and cuisine or the town of Mellieħa which is perched on a ridge.
Mellieħa Bay is surrounded by other attractions including St. Agatha's Tower and Popeye Village.
Popeye village
Popeye Village is one of the most popular Malta attractions. Located in Mellieħa, Popeye Village was originally built as the set of the 1980s movie Popeye, starring Robin Williams.
You can take a tour of the village and even meet Popeye the sailor in his cabin.
What to expect when visiting Malta attractions
From the serene seaports and stunning coastlines to the palm-fringed landscape, Malta is awash with top attractions.
No matter where your visit takes you, be ready for some glorious sunshine and spectacular views.