Last Updated on February 9, 2022 by Your Malta
Malta is home to some of the best beaches in the Mediterranean. Better yet, most Malta beaches have some of the cleanest bathing waters in all of the EU. Some of them are even Blue Flag certified.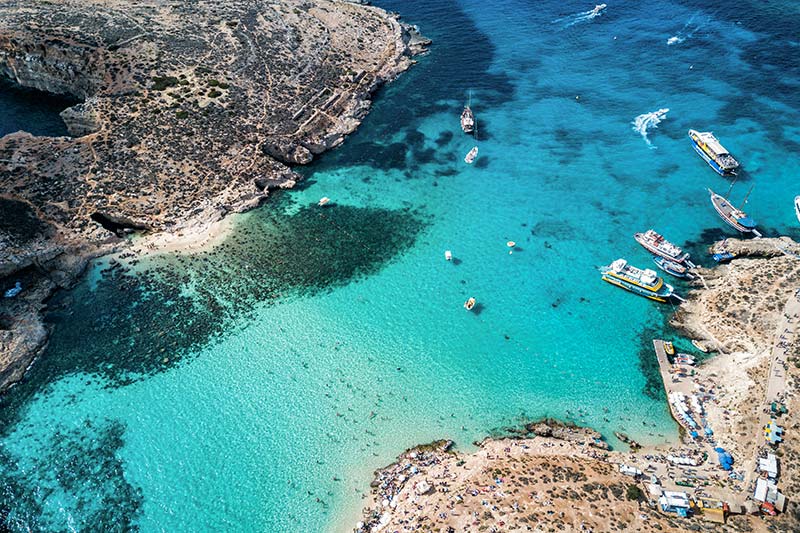 With over 300 days of glorious sunshine, Malta beaches are great for basking in the sun, going for a swim, enjoying some water sports, or simply taking some quiet time away.
Want to head to the beach already? Here are some great spots to try out.
St. Peter's Pool, Marsaxlokk
This secluded yet picturesque pool-shaped bay is perfect for cliff jumping, swimming, and diving. The bay is rocky with shady spots, so don't go expecting a sandy beach.
Getting to St. Peter's pool is a bit of a challenge, but you will forget the hassle once you experience the gorgeous views, high cliffs, and deep turquoise waters.
Mellieħa Bay, Mellieħa
Mellieħa Bay, known by the locals as Għadira Bay, is not only Malta's largest sandy beach but also one of the Mediterranean's prime beaches.
The beach's golden sands are great for warm bathing and you can also enjoy a fantastic range of water sports. Mellieħa Bay is family-friendly and it's easily accessible.
Għajn Tuffieħa, Mellieħa
The Blue Flagged cove of Għajn Tuffieħa is ideally located down a flight of 100 steps. It is perhaps the locals' favourite beach.
Għajn Tuffieħa features soft ochre-coloured sands and clean, clear water which make the beach perfect for sunbathing and swimming. This family-friendly beach offers some of Malta's best panoramic views.
Golden Bay, Mellieħa
Right next to Għajn Tuffieħa is Golden Bay, a popular sandy beach and one of the first to earn Blue Flag status in Malta.
Golden bay is perfect for sunbathing, watersports, windsurfing, and barbequing. It also offers largely unspoilt scenery. This beach is family-friendly and easily reachable.
Fomm ir-Riħ, Mġarr
Up for a challenge? Make the steep descent to Fomm ir-Riħ and you will love the reward you get – one of Malta's wildest beaches complete with splendid coastal views.
You can explore the bay on foot before or after diving, swimming, or snorkelling in the clear waters. Fomm ir-Riħ is one of Malta's most isolated beaches so you can enjoy some private downtime.
Għar Lapsi, Siġġiewi
Għar Lapsi is a rocky beach located a stone throw away from The Blue Grotto, one of Malta's top attractions. The beach enjoys some magnificent views which are complemented well by a natural swimming pool.
A short boat trip will take you to the Blue Grotto's regal cliff formations that offer even more adventure.
Blue Lagoon, Comino Island
The Blue Lagoon is definitely one of the most beautiful places on the Maltese islands. Its dazzling white sands and crystal-clear turquoise waters are the perfect picture of a beach view.
The lagoon is top-rated for swimming and snorkelling and the sun-warmed rocks are excellent for basking. Keep in mind though that the lagoon can get very busy, especially in summer, and access is only by boat.
Getting the best out of Malta beaches
You'll want to keep the following in mind when visiting Malta beaches:
● Always keep inside the demarcated swimmers' zones.
● Always look out for the current flag system at popular beaches. Stay away from the water if there's a red flag – you don't want to be caught out by undercurrents.
● Except for one small beach near Ġnejna Bay, nudity at the beach is illegal and frowned upon by the locals.