Last Updated on June 26, 2019 by Your Malta
Looking for Malta Hotels? Spa, beach, luxury, or just a good deal? Whatever you're looking for there's no shortage of choice in Malta, and as our reviews below will show there are some hotels that are as good as on any Mediterranean island.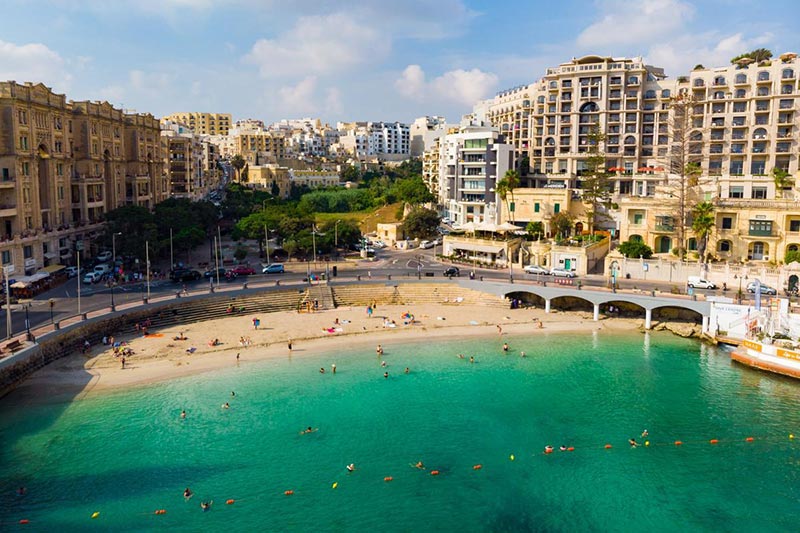 There's been plenty of hotels in Malta winning awards over the last couple of years, and the island has been getting a good reputation for spa hotels too.
Malta Hotels – area by area
Hotels in St Julians
Westin Dragonara
Located in the heart of beautiful and bustling downtown St. Julians, Westin Dragonara is just steps away from the many shops, restaurants and entertainment venues of the city. Other nearby attractions include Spinola Bay, the Portomaso Casino and yacht marina.
Westin Dragonara Malta is only 5 minutes away from the Island's highway, which connects all major venues and local attractions. The Malta International Airport is approximately seven miles from the hotel, and friendly guest service representatives are happy to assist visitors in arranging for an airport transfer.
Guestrooms at Westin Dragonara Resort offer guests stylish decor and modern conveniences including free Wi-Fi service, mini bar, in-room safe and bathrooms. Suites are also available, featuring separate living areas, jetted bathtubs and private balconies.
Perched atop a private peninsula and offering sweeping panoramic views of the Mediterranean Sea, the five-star Westin Dragonara provides the very best in modern luxury accommodations with personal service.
Hotel features include well-equipped meeting and conference rooms, access to water sports, an on-site fine dining restaurant serving up local favorites, a relaxing bar and state of the art fitness center, including swimming pool, tennis courts, sauna and Jacuzzi.
Marina Hotel At The Corinthia Beach
Located directly on the waterfront in the heart of beautiful and bustling downtown St. Julians, the Marina Corinthia is just steps away from Saint Georges Beach and the many shops, nightclubs, restaurants and entertainment venues of the city. Other nearby attractions include Spinola Bay, the Portomaso Casino and the yacht marina.
This Malta hotel is located approximately seven miles from the Malta International Airport, the Corinthia Marina Hotel's staff is happy to assist guests in making arrangements for transportation. The city bus line is also within walking distance, serving all areas of the island.
Each of the comfortable and modern guestrooms at the Marina Corinthiz Hotel is air conditioned and features satellite television, dial-up Internet service, mini bar and in-room safe. Selected rooms offer patios or balconies with wonderful waterfront views. Boasting a private beach, panoramic sea views and elegant styling, the Marina Hotel at the Corinthia offers the very best in guest service and modern amenities.
Hotel features include several fine dining on-site restaurants serving up decadent international cuisine, two fully equipped meeting rooms, two swimming pools and access to the neighboring fitness center that offers a gymnasium, sauna, tennis court and golf course.
Le Meridien St Julians Hotel And Spa
Le Meridien St Julians is a St. Julians, Malta hotel featuring stunning panoramic views of Balluta Bay, just steps from the promenade, with easy access to many local tourist attractions, including Spinola Bay, the Portomaso Casino, yacht marina and many bars, restaurants, shops and nightclubs of the area.
The Le Meridien St Julians Hotel is approximately 7 miles from the Malta International Airport, and the local bus route is close to the hotel, providing service to Valletta, Sliema and the Gozo Ferry Terminal.
All of the elegantly appointed guestrooms at Hotel Le Meridien St Julians feature modern decor, large bathroom, Wi-Fi service, satellite television, safe and mini bar. Set inside a nineteenth-century villa, the five-star Le Meridien Hotel St Julians has been restored to create a historically authentic yet contemporary space with all the modern amenities necessary for an enjoyable stay.
Hotel features include conference and meeting rooms, a host of water sports, several on- site restaurants, a lounge and cocktail bar, beauty salon and fitness center including gym, heated indoor pool, Jacuzzi, squash court and sauna.
---
Valletta Hotels
Hotel Phoenicia Malta
Not all Malta hotels are created equally. Hotel Phoenicia Malta is a truly unique property. Situated at the doorstep of Valletta, Malta's picturesque capital city, the Phoenicia is an elegant hotel offering guests an unparalleled experience in comfort, service and luxury. The 136 elegantly appointed hotel rooms and suites offer all the comforts one would come to expect in a deluxe 5 star hotel.
With a variety of rooms available to suite the diverse and demanding needs of today's discerning traveller, Hotel Phoenicia Malta offers its guests the flexibility to choose from the newly upgraded Classic Plus, Executive Rooms or the Executive Suites offering guests a touch of the 21st century in beautiful contemporary surroundings. The rich colonial atmosphere of the hotel is immediately recognizable on entering the Palm Court Lounge.
Natural light follows in through the glass panes on the roof kissing the plush arm chairs and sofas spread around the lounge. Dining at the Hotel Phoenicia Malta is a culinary journey into an array of local and Mediterranean cuisine. Victor Borg our Executive Chef, rated as one of the island's leading Chefs has created an exquisite menu which will tantalize even the most demanding of taste buds.
Experience unparalleled views of the city's 16th century bastions from the waters of the outdoor pool, or gather, with friends, or as wedding guests, in the sunlit private gardens with the city views as the backdrop. As you retire to your room, slip into your plush bathrobe, and bask in the welcoming ambiance of warm earth tones in your chicly appointed surroundings.
The renowned sites of Malta are just footsteps away from the hotel, including St John's Co-Cathedral, with Caravaggio's masterpiece the Beheading of St John the Baptist, the Grand Master's Palace, and the War Museum. Enjoy a celebrated selection of local and international performances in the magnificent baroque Manoel Theatre or St James Cavalier.
Valletta is also the business capital of Malta, with the Government offices, the Central Bank of Malta, the Malta Stock Exchange, the Chamber of Commerce, the Valletta Waterfront and the Mediterranean Conference Centre all at a short distance away. Hotel Phoenicia Malta is the ideal place to experience subtle indulgences and cultural adventures.
Osborne Hotel
With its central location, Osborne Hotel is one of the Malta hotels that are within easy reach of most tourist attractions and business addresses in Valletta. All 54 at this 3-star property offers well-furnished rooms and attentive service. Each guestroom is tastefully appointed with coffee/tea maker, daily newspaper, ironing board, in room safe.
This Valletta accommodation features on-site facilities such as tours, meeting facilities, bar/pub. Hotel's guests can experience on-site latest leisure and sports facilities such as outdoor pool.
The hotel creates a balance of rich culture and modern convinience to ensure you a memorable stay.
British Hotel
Nestled in the harbour of Valletta, the affordable British Hotel is one of the landmark Malta hotels in the Maltese Capital City, boasting an ideal location in the old town, in one of Valletta's quaint terraced streets. A family-run hotel overlooking Valletta's Grand Harbour, minutes from the main shopping venues and attractions of town, the British Hotel is the ideal base for holidaymakers and business travellers alike.
For your convenience, a shuttle service from the airport can be arranged on request. The British Hotel offers cosy, good value accommodation in Valletta in well-appointed guest rooms, ranging from intimate single room to spacious triple with seaviews, ideal for a family travelling to Malta on a tight budget yet unwilling to give up comfort. Guests can enjoy delicious meals of Maltese cuisine and wines in the on-site restaurant, boasting breathtaking panoramic views over the old town and the port.
The main characteristics of the British Hotel are the friendliness and availability of the staff, and the warm hospitality allowing guests to feel at home throughout their stay in Malta and ensure them an unforgettable holiday in Valletta.
---
Hotels in Mellieha
Pergola Club Hotel And Spa
Built on the sides of the Mellieha valley, the hotel enjoys views of the Parish Church, the popular Mellieha Bay, the sister islands of Gozo & Comino and the village centre which offers a vast choice of shops, bars and restaurants, all within a 200 metre walk. A bus from the main terminus drives directly to Mellieha sandy beach, the ferry to Gozo and the capital city Valletta.
Set in a relaxing and tranquil area of the island, this hotel enjoys spectacular views of the bay whilst being very close to all the attractions in the north. The Spa specializes in a wide range of Thalasso treatments and Holistic therapies aimed at promoting relaxation and well being. Guests entitled to a 25% discount when using the inhouse diving centre.
This white washed, low rise, purpose built hotel blends in with the residential area surrounding the property. Architecture is modern, typical of the area. Breakfast and dinner are served in the main restaurant, the most popular eatery in the hotel. A choice of pasta dishes, crispy salads, grill specialties, pizzas and wines are served in a relaxing and casual atmosphere at the trattoria. The Al fresco restaurant by the pool is open for lunch throughout the summer months, as is the Cave Bar which is set in a natural cave and offers live entertainment on a seasonal program.
Comprising of an average area of approximately 25 sq metres, units are kept in very good condition. All Rooms are tastefully decorated and have standard unit features such as air-conditioning, satellite TV, Radio Alarm Clock, Room Safe, tea & coffee making facilities and may have a balcony or terrace. These rooms are particularly popular with families since most of the units overlook one of the outdoor pools making it easier to supervise children whilst using the facilities.
Twin Interconnecting Rooms are available upon request. Lobby is medium in size, with a reception desk to the left hand side of the main entrance. An internet cafe and seating area can be found right opposite the reception desk.
Riviera Resort & Spa
Sport and leisure facilities include two pools, children's pool, diving centre and water sports centre providing pedal boats, canoeing, windsurfing, skiing and jet ski's during the summer. The Resort's picturesque sandy Hola Beach is located 100m away and offers beach facilities and bar service in peak season.
For relaxation and pampering, the Elysium Spa, complete with indoor pool, jacuzzi, fitness room, squash court, sauna, and other hydrotherapy facilities, offering individual treatments and special Spa packages. Boat trips and excursions can be organised to the islands and the Blue Lagoon departing from the marina, situated across the pedestrian promenade, in front of the resort.,The Riviera Resort & Spa's stylish lounges, bars, restaurants and open-air terraces, offer the opportunity to savour Mediterranean Cuisine whilst enjoying magnificent sea views with the Islands of Comino and Gozo as a backdrop.
The Mirasol Restaurant serves a wide variety of buffet meals, the Sol e Mar Bistro is an all-day-dining bistro, offering a variety of impressive dishes using simple Mediterranean flavours with the option of outdoor dining whilst the Pizzissima is a casual diner with a relaxed and comfortable design serving pizza, pasta and salads. There are also several bars at the Hotel where guests can enjoy a selection of beverages, coffees and cocktails. Not all bars and restaurants are open all year.
A public bus service connects the Resort to all major towns. Mellieha Bay, the Island's largest sandy beach, and Gozo Ferry terminal are 1km away and boats to Blue Lagoon depart from the pier in front of the Resort in Summer.
The Riviera Resort & Spa is situated in one of the most picturesque and charming areas in the north of Malta, just across the channel from the Islands of Gozo and Comino. This is one of the Malta Hotels that have a truly quiet and relaxing location, immersed in pristine countryside and boasting unspoilt shoreline and sea.
Luna Holiday Complex Hotel
A games room comprising a wide variety of video games, pinball, machines and pool table is also available. Our high speed broadband Internet cafe is located in the hotel's lobby and is open 24 hours a day, seven days a week. Anyone who wishes to access the internet may purchase Internet Tickets from the reception.
A fitness room is available free of charge to all our guests, it is open daily, with a variety of weight machines, tread mill etc. The diving centre welcomes both expert divers and also beginners. Dives vary from ship wrecks, caverns, magnificent drop-offs, boat dives to night dives in various superb sites in Malta, Gozo and Comino. The diving centre has a fully stocked retail section with extensive makes and models of equipment available.
The complex offers a warm friendly and family environment, suitable for all holiday makers alike; families, couples, individuals and groups are all welcome. The team will always be happy to make your holiday a pleasant and an enjoyable one. If you are looking for a break here in Malta, this is the hotel for you,The Luna Holiday Complex located in Mellieha Malta. One minute walking distance from the cool blue Mediterranean sea and just five minutes away from the largest beach on the island, Mellieha Bay.,The Luna Holiday Complex is situated in the North part of the island in the town of Mellieha.
This complex is five minutes walking distance from the most popular Sandy Beach in Malta, Mellieha bay. The Luna Holiday Complex has been operating since 1982 and through the years it has increased in capacity; starting off with thirty apartments and presently established as one of the leading three star Apart-hotels on the island, offering one hundred fifty eight apartments.
Solana Hotel
Hotel is situated in the picturesque town of Mellieha, north of the island. Bars, restaurants, shops, sandy beaches and the ferry to the sister island Gozo are close by. A frequent bus from the nearby terminus drives directly to Valletta, the capital city. (journey is approx 40 mins).
This property includes a games room, indoor heated pool, jacuzzi, roof top hydro massage pool and sun terraces, boasting stunning views of the town and the nearby islands of Gozo and Comino. 25% discount is available to guests when using the nearby diving center.
Good value for money with an ideal location for those wanting to visit the northern beaches and Malta's two sister islands. Low rise limestone building with a traditional exterior that blends in with its surroundings. Equipped with brand new furniture, the studio rooms are large in size and feature a fully stocked kitchenette. Bathrooms are also kept in a very good condition.
Room amenities include a hair dryer, individually controlled air conditioning, satellite TV, DD telephone, ISDN laptop connection, radio-alarm clock, frigo-bar and safe. 75% of the rooms have a balcony or terrace. Medium sized modern lobby with cafeteria located just before the reception desk. The main restaurant specialises in Mediterranean cuisine whilst the cafeteria offers light snacks and desserts throughout the day.
---
Hotels in Sliema
Preluna Hotel And Spa
A large salt-water swimming pool, separate childrens paddling pool, sun-loungers, towels, parasols, bar and grill, scuba diving school and diverse water sports all make for an exciting or relaxing visit.,This modern hotel offers an excellent location in the heart of Sliema, right on the seafront and only 180 metres from the shopping centre.
All rooms have been totally refurbished and new facilities have recently been added. These include Feelgood Wellness Spa, a brand new lobby and reception and the Triton Buffet Dining Room with open show kitchen and spectacular sea views. The Private Beach Lido is open from 1st May until 31st October. During the high season we offer a variety of water sports, a bar and grill. The Scuba Diving School is open all year round. **PLEASE NOTE**on 24th,25th,31st Dec & 1st Jan minimum board basis is HB – this is costed in the price**
On 05.01.09 hotel will be carrying out a refurbishment program and the hotel's coffee shop will be closed for seven weeks. The Piazza Bar will be o9pen as from 10.00am up to midnight serving coffee, pastries and hot savouries. A number of bathrooms will also be upgraded and soft furnishing and bedding replaced in the Towers bedrooms.
Fortina Hotel
The Hotel Fortina is situated on the waterfront in a quieter part of Sliema, with Sliema's shops and facilities just 200m away. It is a property with an edge because the facilities are amongst the best in its class for a four-star hotel. Guests are able to do as much or as little as they choose, with ideal facilities for relaxing or active types.
The Fortina overlooks the island's majestic capital Valletta and has some great views from the front, out to sea and over to Marsamxett harbour. The atmosphere is a very relaxed feel and the overall ambience is mellow and sophisticated. The resort has established itself throughout Europe as one of the best short break spa treatment centres, and offers treatments of all kinds to suit all budgets.
Decor is elegant and designed to relax the senses. Hotel Restaurants include: La Vallette Buffet RestaurantRistorante Tigne (serving French and Continental cuisine)Il Giardino Pizzeria CanThai (serving Chinese and Thai cuisine) accessible via adjoining 5 Fortina Spa ResortFacilities include :Cocktail Bar (with evening entertainment in the Winter months)Outdoor Lido bar (with stunning views and evening entertainment in the Summer months)Indoor Garden bar.
Four swimming pools, two outdoor lido pools and two indoor pools. Thalasso Spa Centre Sante Spa Centre Belle Epoque Beauty Centre Hypogeum – Body Mind and Spirit Centre Fitness Centre. Daily entertainments program. 200 rooms, eight floors, four lifts.
115 The Strand Aparthotel
115 The Strand Aparthotel has recently undergone extensive renovation program, the hotel now has 84 guestrooms in a 8- story property. Most of the rooms enjoy panoramic views of Valletta bastions and Marsamxetto Harbour. A number of the rooms and apartments can accommodate 3 to 4 persons and are particularly suited for families.
115 The Strand features a restaurant, serving breakfast, lunch, and dinner. The property has 2 dining venues. Giulio's Restaurant – Overlooking picturesque harbour and serving Italian and Maltese dishes buffet style and a la carte. Special theme nights include Oriental, Indian and Maltese nights held weekly.
Hotel guests are offered 20 percent discount on restaurant bills (excluding beverages). Open for breakfast and dinner. Giulio's Bar – Located on the eighth floor, with a terrace overlooking the sea. Serves snacks and homemade specialties.
The Palace Hotel
Classical features with a modern twist give this Malta hotel a unique and contemporary design. A very central but tranquil location is just another bonus of this very attractive boutique hotel. Leisure facilities include an outdoor Jacuzzi, spa treatments and fitness centre.
One of the most recent 5 star properties to be built on the island. Brand new rooms offering the latest design in furniture and amenities. Medium in size, incorporating a very modern and stylish bathroom with double basins. Dark woods and a rich colour scheme used for decor. All units include WIFI service and plasma screen TV, most rooms have their own private terrace.
Brand new rooms offering the latest design in furniture and amenities. Medium in size, incorporating a very modern and stylish bathroom with double basins. Dark woods and a rich colour scheme used for decor. All units include WIFI service and plasma screen TV, most rooms have their own private terrace. Situated in a quiet residential area of central Sliema, but within walking distance from shopping centres, restaurants, cafes and a long stretch of rocky beach.
The island's nightlife district of St Julian's is a 5 minute drive away or a pleasant stroll along the seafront promenade. Valletta, the capital, can be reached by ferry (5 mins walk from hotel) or a fifteen minute bus ride. A varied choice of outlets to choose from. The main restaurant offers contemporary Mediterranean dishes whilst the cafe, situated next to the beautifully restored 18th century chapel, offers a fusion of European and Asian dishes.
The lounge bar on the 8th floor enjoys spectacular views of Sliema and Valletta. Modern purpose built hotel nestled amongst town houses and trendy urban villas. Large and well lit throughout the day. A blend of modern furnishings with a strong classical theme. Large chandeliers and lamps give a very dramatic effect to the decor. A dark wooden desk is the main feature of the reception area.
---
Victoria Hotels
Downtown Hotel
A very modern property with traditional touches situated in the heart of the island with easy access to main attractions and beaches. Highly recommended for those looking for a central, comfortable and relaxing stay. The roof top swimming pool is open throughout the summer months. A fashion and sports wear shop is located on the first floor, whilst the popular nightclub is located on the lower ground.
The kids area includes a multi-storey activity castle with tubes, slides and climbing frames. (DB 05/09)All rooms and bathrooms are new and in excellent condition. Units are equipped with TV, mini bar, telephone, hair-dryer and air-conditioning. Although the hotel is rated three star, every effort has been made to ensure that all rooms conform to four star standards in terms of facilities, comfort and design.
The hotel provides rooms with facilities and access for people with special needs. This room type is the budget option with units having no view. One of the more recent hotels to open on Malta's idyllic sister island of Gozo. The property is within walking distance from Victoria, Gozo's capital, and the historic town of Citadel. Gozo's central bus terminus, shopping streets, Villa Rundle gardens, bars, restaurants, cinema and Astra theatre are a stone throw away.
The main restaurant is open for buffet breakfast, lunch and dinner offering local and continental dishes. Alternatively the cafe is open daily from 7.30 am till late offering fresh baguettes, sandwiches, pizzas, mouthwatering salads and home made pastries or deserts. An Extensive local and foreign wine list is also available.
A purposely built 3 storey building, very modern in design. Lobby is small and very well lit throughout the day. Lifts to all floors are situated to the right of the reception desk with an entrance to the cafe on the left.
Villagg Tal Fanal Apartments
Location. The Villagg Tal Fanal and Tal Fanal Apartments are located just outside the village of Ghasri, on the island of Gozo, off the coast of Malta. The complex is three kilometers from the island's capital, Victoria, five kilometers from the pebbled beach of the Inland Sea, and six kilometers from the sands of the coastal Ramla il Hamra beach.
Situated in lush countryside, this self catering complex comprises of Villagg Tal Fanal and Tal Fanal Apartments. Built in a traditional Maltese style with mustard coloured bricks, the village and the apartments face each other. Both establishments have their own large outdoor swimming pools, surrounded by palms and sunloungers. Garage parking is available nearby, and babysitting and childcare can be arranged. Units.
Villagg Tal Fanal offers 26 maisonettes offering three bedrooms, and decorated in a rustic style with wooden beams. Each has a well equipped kitchenette and a terrace or balcony. The Tal Fanal Apartments consist of 20 units, each with two bedrooms and two bathrooms. Furnished farmhouse style and equipped with kitchenette, the apartments overlook the communal swimming pool.
All units have light decor with rich coloured fabrics and amenities include satellite television, refrigerators, patios and ceiling fans.
---
Hotels in Xewkija
Mariblu Guesthouse
The Mariblu Guesthouse offers great-value-for-money B&B accommodation in Gozo Malta. The bed and breakfast is located in the small village of Xewkija, far enough from Gozo's crowded beaches to be a tranquil and peaceful vacation spot yet near enough to all of the island's attractions.
What you will enjoy most about the Mariblu Guesthouse Bed and Breakfast is the hospitality and warmth of your hosts, Maria, Frankie and their numerous family.
If you give them your flight details in advance, they will come and meet you from the airport or ferry harbor and take you back to the B&B where you can tuck into a gorgeous meal cooked by Maria at the bed and breakfast's restaurant.
The restaurant serves a host of traditional Maltese and fresh fish dishes, and an a la carte menu is available for dinner. There is a pizzeria and BBQ's are held by the swimming pool in the summer. Last but not least, free wireless internet and high-speed cable internet access is available.
---
Xlendi Hotels
San Andrea Hotel
Embraced by the steep cliffs of the Xlendi Valley and caressed by a gentle sea breeze, Hotel San Andrea is the ideal hide-away on the island of Gozo, a place blessed by progress but not suffering the ravages of time.
A modern hotel located on the Xlendi promenade, just steps away from the beautiful Mediterranean Sea, Hotel San Andrea exceeds in providing visitors with an intimate, comfortable and above all friendly atmosphere in which to enjoy a relaxing and truly unforgettable stay in Gozo.
Onsite, guests will enjoy spectacular views of Xlendi Bay from most guestrooms and many public areas including the splendid roof terrace. Deluxe guest services include packed lunches, car hire, helicopter/ferry transfers, tours, safaris, romantic horse drawn carriage rides and diving experiences.
Saint Patricks Hotel
An excellent hotel for its category with stunning views of the sea from many areas. All the rooms differ in size and decor. 70% of the rooms are medium in size with the remainder being large. All are modern and in very good condition with light and pastel colours predominately used with white washed walls. The bathrooms are also in very good condition.
Situated directly on the coast overlooking the Mediterranean Sea and the rugged valley of Xlendi. A variety of restaurants and bars lie at this hotel's doorstep. The restaurant is situated on the ground floor overlooking the sea. It leads onto an outdoor terrace where guests and locals can enjoy spectacular views of Xlendi bay.
It is bright and airy and has terra cotta flooring with light wooden furnishing. Its large windows provide the restaurant with a great deal of light. The hotel is a modern purpose-built structure. The lobby is small in size incorporating a couple of seating areas. It is traditional in style with wooden furnishings, terra cotta flooring and typical Maltese limestone walls.
---
Bugibba Hotels
Coral Hotel
The Coral Hotel is a boutique hotel situated on the island's northern coast, in Bugibba, which is considered as one of Malta's leading tourist resort, near St. Paul's Bay and Qawra. The Coral Hotel is a few minutes walk away from the attractive Bugibba promenade where there is ample tourist activity, including: Shops, Restaurants, Bars, Pubs, and Cinema etc.
Being part of a group of Hotels namely Canifor Hotel and Cardor Apart hotel, rest assured that this hotel is managed by friendly personnel so as to ensure great customer satisfaction and value for money. All patrons of Coral Hotel are most welcome to avail themselves from the facilities of Canifor Hotel and Cardor Apart hotel.
The Coral Hotel, is classified as a Three Star property, offering the standards and requirements of a four star. We offer ample in house facilities including an attractive Reception Foyer, Restaurant, bar, internet facilities, games room, fitness room, and massage services. The Outdoor Pool is situated on the top floor with picturesque country and sea views.
The 24hr reception desk will assist you with all your needs throughout your stay in Malta. The Coral Hotel, has 40 guest rooms sleeping maximum 34 persons, all with Balcony, Bathroom ensuite, Direct Dialling facilities, Safety Deposit Boxes (extra charge), Air-conditioning, RadioTelevision (satellite channels), mini cooler (extra charge) and Hairdryer.
Primera Hotel
This property offers high quality in a great and central location, right next to the town's main square. The roof-top sun deck and splash pool are open seasonally. Hotel thrives on maintaining high standards throughout. Rooms and bathrooms are kept in excellent condition decorated with warm bright colours and tiled flooring, typical of the island.
All units are equipped with satellite TV, radio, air-conditioning and direct dial telephone. Bedrooms have access to a private inland balcony. Rooms and bathrooms are kept in excellent condition decorated with warm bright colours and tiled flooring, typical of the island. All units are equipped with satellite TV, radio, air-conditioning and direct dial telephone. Bedrooms have access to a private inland balcony.
This superior three star hotel is in the centre of Bugibba, one minute walk from the beach, entertainment and shops of the area. St. Paul's Bay is a pleasant 10 min walk along the promenade. A casino, cinema and the local bus terminus are all a short walk away from the hotel. Breakfast and buffet dinners are served in the main restaurant on the ground floor.
Local and continental dishes enrich varied daily menus. The area is well lit with large windows facing the vibrant main street of the town. A 5 storey white washed corner block. Lobby is medium in size incorporating a small seating area. Reception desk and bar are situated at the entrance of the hotel.
Topaz Hotel
A very popular resort of a superior standard offering extensive leisure facilities including a large outdoor pool, kids pool, indoor pool, sauna, games room, souvenir shop and hairdressing salon. Recommended for families. The rooms are medium in size and kept in good condition, as are the bathrooms.
All units are equipped with modern amenities including direct dial telephone, euro satellite TV, radio, hairdryer and a safe available at a charge. The majority of the bedrooms have balconies. The rooms are medium in size and kept in good condition, as are the bathrooms. All units are equipped with modern amenities including direct dial telephone, euro satellite TV, radio, hairdryer and a safe available at a charge. The majority of the bedrooms have balconies.
Situated in the heart yet a quiet area of Bugibba, an immensely popular seaside resort and tourist centre offering beaches, restaurants, bars, clubs, shopping and casino. Buffet breakfast and table d'hote dinners are served in the elegant yet casual main restaurant. The pizzeria offers tasty Italian dishes and pizzas. Alternatively light snacks are served at the pool bar, open seasonally.
Live entertainment is on most evenings in the lounge, whilst a traditional oak pub offers a more quiet and intimate atmosphere. A very large and modern, purpose built property. The lobby is large with an open plan design, incorporating a seating area, internet facilities and access to the pub.
---
Hotels in Cirkewwa
Paradise Bay Resort Hotel
The Paradise Bay Resort Hotel is very popular, spacious and comfortable. It is beautifully situated overlooking the picturesque sister islands of Gozo and Comino surrounded by the clear water of the Mediterranean making it an ideal holiday for all ages. The hotel offers practical, well furnished and comfortable accommodation in a very pleasant and friendly atmosphere.
The hotel further offers 238 guest bed rooms all with sea view and balconies and some with the southerly facing bay view, the hotel offers the facilities of the various bars, dining areas and, internet Wi Fi (at a charge) as well as the multiple hotel facilities to choose from, we make an ideal base to relax in or venture out from. car hire which is readily available and the public bus services also operates from just outside the hotel allowing access to all areas of the island.
There are two tennis courts, three outdoor pools with extensive terraces and sun loungers, a large indoor pool that is heated during the winter months, a childrens' play ground with safety flooring, a games room for all ages, the hotels own beach with water sports during the Summmer months and a Gold Palm Diving School operating all year with PADI qualified diving instructors
---
Comino Hotels
Comino Hotel And Bungalows
A very unique destination offering two small private sandy beaches, a varied program of daily recreational activities, tennis courts, fitness room, sauna and live evening entertainment. A scuba diving centre and watersports are also available at the property. Hotel offers shuttle ferry service at an additional charge on arrival and departure, please contact property for bookings.
Low rise and modern purpose built hotel. Building is washed in pastel colours and overlooks San Niklaw bay. This property is the only hotel on the little island of Comino. The island is situated between Malta and Gozo and is one of the few remaining unspoilt islands in the Mediterranean. Comino is a bird sanctuary/nature reserve and is mostly a relaxation resort for Maltese and tourists alike.
All activities on Comino center around the Hotel. Having no buildings, cars or any other kind of civilisation, this island is the perfect destination for relaxation seekers. The island's main attractions are St Mary's tower erected in 1618 and the cyan waters of the Blue Lagoon.
---
Floriana Hotels
Grand Hotel Excelsior
The latest addition to the 5 star Malta Hotels and the largest property on the island. Its central location makes it ideal for those wanting to visit Malta for pleasure or business purposes. Facilities include indoor/outdoor swimming pools, jacuzzi, and gymnasium.
A great property focusing on a fusion of luxury and warm Mediterranean hospitality. These deluxe rooms are spacious and kept in brand new condition, same applies to the bathrooms. Elegantly decorated and equipped with 5 star amenities including Safe, Mini bar, Direct Dial Telephone, Free Wireless Internet, A/C and video on demand.
All units have a balcony with stunning uninterrupted views of Pieta Marina, Manoel island and Sliema sea front. Located within the sixteenth century walls of Valletta, the capital city, and overlooking Manoel island in Marsamxett harbour. Malta international airport is an 8km drive away. Busses from the main terminus, situated 5 mins from hotel, serve all routes round the island.
A ferry service is available within walking distance from hotel crossing the harbour to the fashionable town of Sliema. Proud member of 'Preferred Hotels and Resorts'.
The main restaurant is large and spacious, enjoying great views of the harbour. Both breakfast and a la carte dinner are served here, with menus featuring local and international delights. Alternatively drinks can be enjoyed at the lobby lounge (open 24 hours) or pool bar (open seasonally). Lighter meals and snacks are served at the Fountain restaurant. Modern purpose built hotel by the water's edge.
Property enjoys charming views of the Mediterranean and the hotel's own private yacht marina.
---
Gharb Hotels
Villagg Tas Sbejha Hotel
The village is a cluster of 26 maisonettes superbly finished with typical rustic style interiors and featuring a garden and terrace. Facilities on offer to guests include a 24-hour check-out service, a TV lounge, a restaurant, conference facilities, a car park and bicycle hire (charges apply).
---
Gozo Hotels
Kempinski Hotel San Lawrenz
The Kempinski Hotel San Lawrenz in Gozo opened its doors for the first time in 1999, when its Maltese owner privately managed it. In 2001, the Kempinski Hotels Group took over the hotel's reins. The spa's existing facilities remained unchanged under the hotel's new management, but under Kempinski management the Ayurvedic centre was introduced.
The Kempinski Hotel San Lawrenz is a five star country resort offering the highest levels of service, comfort and style. Surrounded by 30,000 sqm of garden, the resort complex was built to fit architecturally into the yellow limestone. The resort offers 122 rooms and suites, decorated in the traditional hunting lodge style.
The entire resort creates an elegantly rustic atmosphere in the lobby with natural stone floors, palm trees, flower beds, much massive wood, with the Mediterranean colours ranging from golden yellow to full orange, clay red, to warm brown, guests find the surroundings relaxing, comfortable and stylish.
Elegant rooms offer guests the ultimate in comfort, privacy and relaxation. Their spaciousness and cool stonewalls are just what you need when the sun is shining outside and you need time in the shade with comfortable sofas to relax on. Each room has a private balcony overlooking the beautiful valley of San Lawrenz, landscaped garden or pool areas.
All rooms are equipped with individually controlled air-condition and heating, satellite TV, in-room safe, iron and ironing board, mini-bar, tea and coffee making facilities, direct telephone and wireless Internet access.The Kempinski Hotel San Lawrenz is an ideal venue for business conferences and incentive groups, giving delegates a perfect setting to work.
The facilities accommodate small meetings to large conferences. The Kappella conference room with its high stone arches is spectacular, with the aura of a medieval banqueting hall, also an ideal venue to celebrate special occasions such as birthdays and marriages.
---
Gzira Hotels
Bayview Hotel And Apartments
Located on the wonderful island of Malta, Bayview Hotel & Apartments welcomes guests from all over the world for a great Mediterranean vacation. This 3-star Malta hotel is conveniently situated on the Sliema waterfront promenade in the surroundings of Gzira, overlooking the historical bastions of Valletta.
Discovering the island's culture has never been so easy: beaches, night life and cultural events make the Bayview Hotel & Apartments one of the best choices for your beach holiday in Malta. Soak up the sun by the fabulous rooftop pool with a refreshing drink from The Marina Bar where you can enjoy great views as well as a fantastic breeze!
The hotel wellness centre awaits you on the top floor where you can go for a light workout in the gym, relax in the sauna and even do your lengths in the indoor pool. Famous for its lavish buffets, the Bayview Hotel & Apartments has a bar and no less than three restaurants serving Chinese, Indian and international cuisine giving guests a variety of dining options.
Low-key activities include the games room featuring a number of arcade games as well as a pool table; great for family games and competitions. There are also computers in the lobby so you can check your emails and research things to do in the area. Please Note: the apartments are not in the main hotel, but in the annex building, 300 metres away from the main hotel.
Kennedy Nova Hotel
Your Mediterranean dream holiday starts hereIf you are looking for the perfect base in Malta then you have found it. The Kennedy Nova is a four-star, seafront hotel just a stone's throw away from the crystal blue Mediterranean waters. Situated right in the heart of Malta's busy shopping and seaside district Sliema, Hotel Kennedy Nova offers both comfort and convenience for visitors to the island.
This family-run establishment has been popular since the 1960's and today maintains it's reputation as a well-liked four-star hotel that caters for both long and short haul trips, and is ideal for either business or pleasure. Whether it is a tranquil few days of relaxation you are after, or a handy city hotel minutes away from the action, Hotel Kennedy Nova will suit you perfectly.
Offering great food, relaxing surroundings and an abundance of atmosphere, it will fast become your home away from home for as long as you choose to stay. We are pleased to offer you a variety of amenities, services and packages during your holiday, and may even help you plan your dream Mediterranean wedding.
Milano Due Hotel
The Hotel is located along the promenade of the hip town of Sliema, a short walk from great shopping outlets, bars, restaurants and a rocky beach.
The property enjoys fantastic views of Manoel island and harbour. Ferries to Valletta, the capital city, can also be taken opposite the hotel. Bus stop nearby serves routes to the island's main attractions.
A great value for money hotel located in Malta's busiest town. A fitness room, sun deck and sauna are also available at hotel. The hotel is ideal for corporate travellers as well as holiday makers.