Last Updated on June 28, 2019 by Your Malta
Malta Airport, or Malta International Airport (MIA), is the only airport in the country. This airport, with its high standards, was recently ranked second best in Europe. Here's what you need to know before going.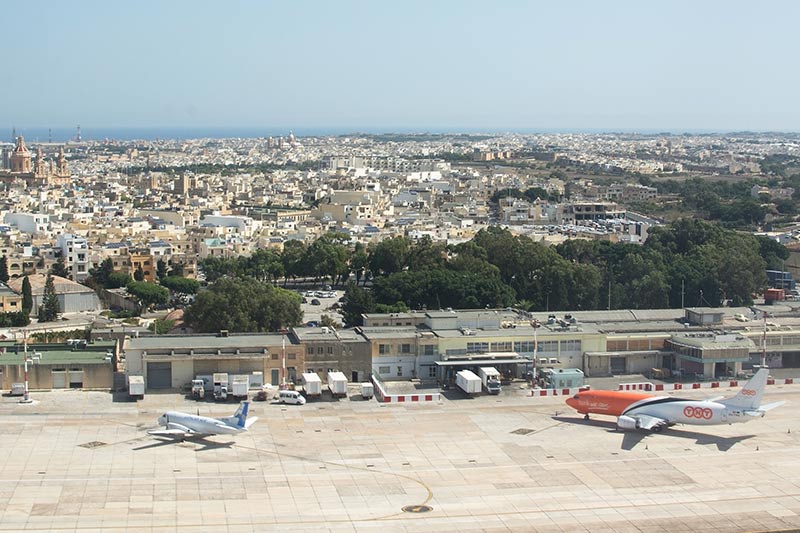 Read on to find out what you can expect from Malta's airport whether you're just passing through or staying overnight.
Malta Airport Overview
Malta Airport is situated in Gudja. It's connected to over 100 destinations across 86 cities by more than 30 partner airlines. The airport is the main hub for Air Malta.
Close to 7 million passengers and 16,000 tonnes of cargo pass through the airport every year.
What to expect
Malta Airport is one of the best because of its security procedures, efficiency, and services. The airport has conference facilities, 27 retail outlets, 12 food establishments, and baby-care facilities in the Check-in Hall.
You can also access a children's play area and a fitness and wellbeing centre at the SkyParks Business Center. Passengers with reduced mobility and those with autism also have facilities and help available.
A pharmacy, a chapel, ATM machines, banking services, and mobile charging are also available in the airport. You can also enjoy some free Wi-Fi.
If you're spending more time at the airport you can watch planes come and go from the observation deck located on the third floor or you can check out the amusement room situated on Level 1.
For any private needs, Malta International Airport has a VIP terminal on the runway to provide the shortest, most hassle-free route to your flight. The terminal is used exclusively by one travelling party at a time.
Lounges at Malta Airport
The airport's luxury La Valette lounges are available to all passengers regardless of which class they are flying.
Entry is gained by a membership which gives a Priority Pass, buying a lounge pass, or paying at the door.
Arriving passengers can access a lounge from the Baggage Reclaim area and those departing can use the one in the departures area.
Both lounges have excellent facilities including comfortable sitting areas, complimentary snacks and beverages, and flight monitors.
Overnight sleepovers
Although Malta Airport is always open, there are no sleeping facilities available. However, you can still sleep on the floor or look for comfortable seating in one of the cafés.
If you are sleeping over at the airport you should consider travelling with some blankets for sleeping comfort.
If you are not keen on sleeping in the airport you can find accommodation at one of the hotels near the airport.
Some of the nearby hotels include Casa Ellul, Palais Le Brun, British Hotel, and The Phoenicia Malta. Here's our general advice on hotels in Malta.
Travel tips for arrivals and departures at Malta Airport
Perhaps the biggest thing when travelling to Malta, or any other place for that matter, is taking your identification documents with you.
If you're travelling from a Schengen country, you probably won't need your passport, although valid identification is still required.
Travelling from non-Schengen areas attracts more rigorous identification regulation. You will need a passport or a valid equivalent together with a transit visa and documents highlighting the purpose of your visit to Malta.
Malta International Airport is quite small so you don't have to worry about getting lost. You'll find that the airport is easy to navigate and easily accessible for people with impaired mobility.